Resource Center
Spring 2013 Newsletter
In this issue:
Welcome
Spring has officially arrived and with that comes the rush for many of you to get ready for the summer season. We have selected the 7 crucial steps on how to improve your Internet presence, and how to get more customers to book your property, rooms or rentals. Plan to do one step each day and in one week your business will be fine tuned for the season.
Speaking of Internet presence - the new Booking Calendar has been out for more than a month and the reviews have been overwhelmingly positive. The new booking calendar is completely redesigned and rebuilt from the ground up to give your customers the best booking experience ever - whether they book from their desktop, laptop, tablet or smartphone.
In this newsletter you can see more examples of the new booking calendar and find out how to add it to your website or Facebook page.
As always, we want to thank you for selecting WebReserv as your online booking system.
Best regards,
WebReserv.eu
The 7 Crucial Steps To Get More Online Bookings
It's spring and now is the time when people are surfing all over the Internet to book their trips and adventure experiences for the summer. You need to make sure that customers make their bookings with you, so here are 7 critical steps to improve your bookings this year. Commit to doing one step every day and you'll be ahead of the competition in a week.
Step 1. Update Your Website! Time: 4 - 8 hours
When was the last time your website was updated? If it's out of date, make it a goal to get it refreshed before the season starts.
If website design is not your passion or your skill, you can consider using website companies such as Wix.com or Weebly.com. They offer great looking websites with very little work. Below is a screenshot of a website that was created in less than 2 hours: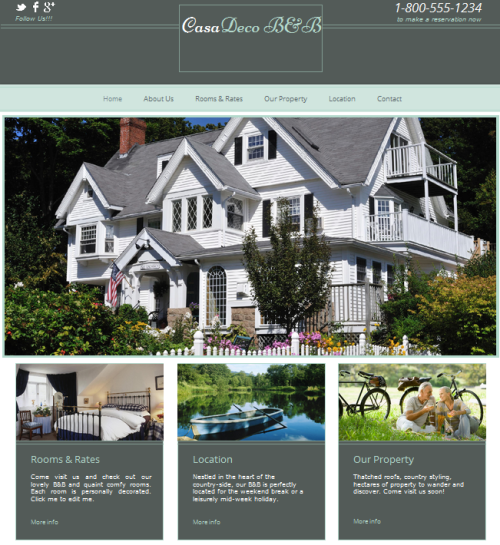 If you decide to build or buy a new website, make sure it's responsive. Responsive means that the page automatically adjusts to the screen it's being shown on, thus giving the customer a great experience whether he or she is using a laptop, a tablet, or a smartphone.
Step 2. Get a higher ranking on Google. Time: 30 minutes.
Not only does your website need to have good content, but it needs to have good keywords, too. Google and other search engines use the keywords as well as the content to determine what your site is about.
Typically, you will want to include the following keywords: who you are (business name), where you are (location or address), what you do (bed & breakfast), and what you offer (reservations).
Where and how you add keywords to your website depends on the software you are using. In many website design tools it's called meta keywords or search keywords.
Separate each keyword by a comma as shown in the example below (screenshot is from Weebly.com).

Remember to also include the same or similar keywords in your WebReserv account. To update your WebReserv keywords, log on to your account and go to Setup - Business Information - Search Keywords.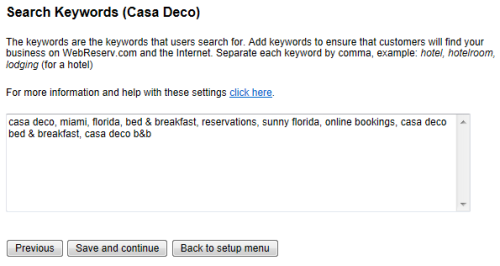 Step 3. Add Stunning Pictures of your business/rooms/rentals. Time: 1 - 2 Hours.
They say you shouldn't judge a book by the cover, but that is exactly what happens every day online. Customers are much more likely to leave your website and go somewhere else if your website is outdated, difficult to navigate, or doesn't have good pictures.
Remember - You may offer the world's most amazing rental or tour, but, if the customer can't see what they book, they won't book it!
Use a good quality camera to take pictures or hire a professional photographer to get 10-15 stunning pictures of your rooms, rentals or tours. Once you have captured all your pictures, then upload them to your website and your WebReserv account.
Tara Banda has some great tips for taking good pictures here: http://blog.getreachcast.com/443803/2012/05/11/how-to-take-better-pictures-for-your-business-website.html.
For best results we recommend that you upload pictures in either png or jpg format, with a maximum resolution of 2048 by 1536 pixels.
Step 4. Get 15% more bookings. Time: 45 minutes
You probably already know that your WebReserv account includes a free listing on the WebReserv portal, but did you know that on average a business gets 15% more bookings from the WebReserv portal? That's a lot of bookings!
If you're not already listed on WebReserv.com, you should consider getting it turned on. To check whether your business is listed on WebReserv.com, log on to your account and go to Setup - Business Information - Category.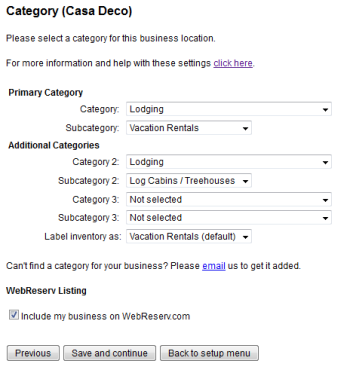 If your business is already listed, take a moment and go through your room/tour descriptions and pictures and update if necessary.
You can use the search engine optimizer to help you identify areas for improvements. Log on to your account and go to Website - Search Optimizer. It will review your current settings and offer suggestions to make it better.
Step 5. Get Listed On Facebook. Time: 15 minutes
If you don't already have a Facebook account for your business, you need to get one today. There are some great Facebook tutorials, including this one from eHow:
http://www.ehow.com/videos-on_108_use-facebook.html
Once you have created your Facebook account, remember to include a link to it in your emails, on your website, and ask your customers to "like" you on Facebook.
Step 6. Link To Your Reviews. Time: 30 minutes
In addition to good descriptions and pictures of your rooms, rentals or tours, it is paramount that you give your customers the ability to read reviews from other customers on your website.
If a customer can't see (or post) reviews, they will likely think that your business is not in good health or that you have something to hide, which in turn, increases the likelihood of the customer going somewhere else.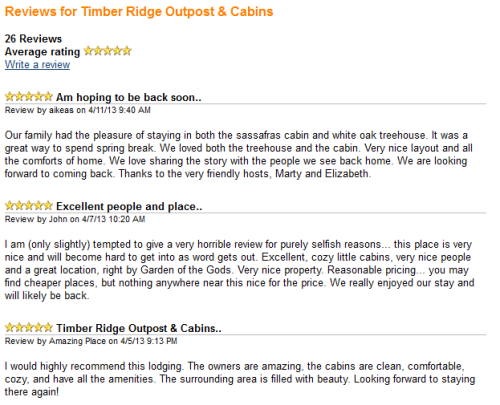 If you already have reviews on your own website, you are doing well. If you don't then you should link to reviews on WebReserv.com, TripAdvisor or both. To find the link for your reviews on WebReserv.com, log on to your account and go to Frontdesk - Reviews.
Step 7. Ask your customers to send their friends and family. Time: 1 minute per customer.
Word of mouth advertising is extremely powerful. A confident "try this, you'll love it" from a friend means more than all reviews in the world. That's why you want to ask your existing customers to share their experience with friends and family.
When your customer checks out, ask them if they had a pleasant experience, tell them you'd love to see them back again, and give them a discount code for 5% - 10% off the next time they visit.
Also, make sure you tell them that they are welcome to give the discount code to a close friend if they can't use it themselves.
Fortunately, your WebReserv Booking System can handle the discount codes automatically. You can find more information about it here: http://www.webreserv.eu/help/setup_discountcodes.htm.
That concludes the 7 crucial steps. Plan to implement all of these tips this season and you should see an improvement in bookings compared to last year. But hurry - the season has already started and we are already seeing many bookings taking place for the summer.
The New Booking Calendar
In case you missed the news, the new Booking Calendar has been released and the feedback has been amazing.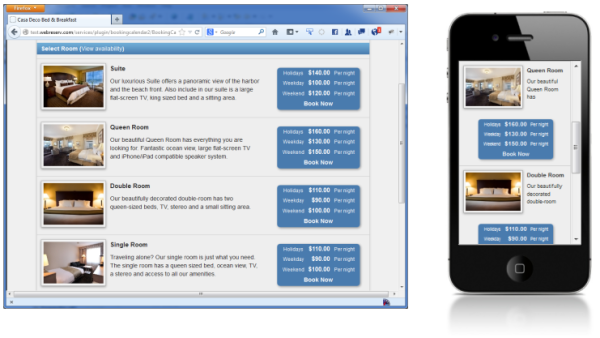 Here's a few of the responses we have received about the new Booking Calendar:
Love the new booking calendar, well done!
The big room pictures and color themes makes my website look really professional.
Love the easy navigation.
Whether you are using WebReserv as a booking system for a bed & breakfast or vacation rental or if you use the booking system for boat rentals, bike rentals or tour bookings, you'll find that the new booking calendar is attractive and easy to use.
We have dedicated a whole section on our website to explain the new Booking Calendar and how you can customize it to match your website.
You can find it here: http://www.webreserv.eu/help/using_the_booking_calendar.htm.
The new Booking Calendar looks great on Facebook, and it only takes a few minutes to add it. Best of all, the WebReserv Booking System is designed to ensure that no double-bookings occur, even if you have the booking calendar on your website and on your Facebook page at the same time.
This guide will walk you through adding the new 2.0 Booking Calendar to your Facebook page: http://webreserv.wordpress.com/2013/04/23/adding-the-booking-calendar-to-your-facebook-page/
Tips & Tricks
Did you know that WebReserv has the ability to include multiple products in a single reservation? This is a very useful feature for businesses that would like to have a "shopping cart" type booking system.
To enable multi-reservations, go to Setup – Business Information – Advanced Options and select Enable multiple products per reservation.

As with all other configuration changes, we recommend that you try the multi-reservation feature to get comfortable with the functionality.
You can find other tips & tricks on our blog at http://webreserv.wordpress.com.
Have a question? Write us and let us know.
We want to hear from you
We always want to hear from our customers. Your suggestions are invaluable for us to continue to make WebReserv.com even better. If you have ideas for features that can help you run your business smoother, let us know by sending your thoughts and suggestions to support.

We look forward to hearing from you.