Resource Center
Winter 2013 Newsletter - The Best Booking Calendar.. Ever
In this issue:
Welcome
Welcome to the first WebReserv newsletter in 2013.
We are very excited to announce a completely new and redesigned Booking Calendar for your business. The new booking calendar is completely redesigned and rebuilt from the ground up to give your customer's the best booking experience ever - whether they book from their desktop, laptop, tablet or smartphone.
As always, we want to thank you for selecting WebReserv as your online booking system. We appreciate your business and look forward to a great 2013.
Best regards,
WebReserv.eu
The Best Booking Calendar... ever
The experience for the customer starts long before they arrive at your business. It starts when the customer visits your website and makes an online reservation. That is why a business with a high-quality, clear and concise website with online reservation capability gets more customers and higher revenue.
To help you get the best looking website and get more customers, we are pleased to announce the arrival of our new Booking Calendar. The new Booking Calendar has been designed to make your website or Facebook page stand out and look absolutely amazing while at the same time give your customers seamless and effortless booking experience.
The new Booking Calendar will officially be released on February 15, 2013, but we invite you preview and try it out today!
Works on everything - including smartphones
The new Booking Calendar is built to work on all computers, tablets and smartphones including iPhone, Android and Windows phones. It doesn't matter if your customer is booking on a laptop or smartphone - the new Booking Calendar will automatically adjust and show your rooms, tours and rentals in the most effective and visually pleasing way possible.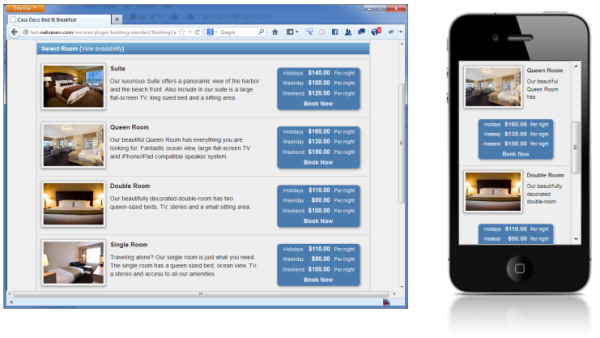 List your products with ease...
The new Booking Calendar includes a beautiful room/tour/rental list, complete with large thumbnail images, descriptions and - of course - rate/pricing information.

...and show the details, too.
If you don't have a description and picture gallery of each of your rooms/rentals/tours on your website, the new Booking Calendar will help you as well - it now includes a full description page and image gallery.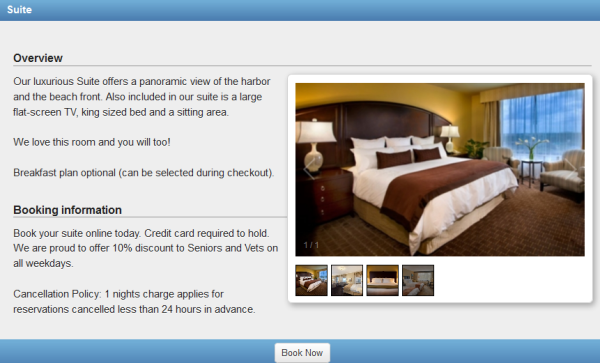 Availability / Rate Grid
We are excited to offer our new Availability View of the calendar. This is great for your customers to be able to view availability and pricing of all your inventory at a glance.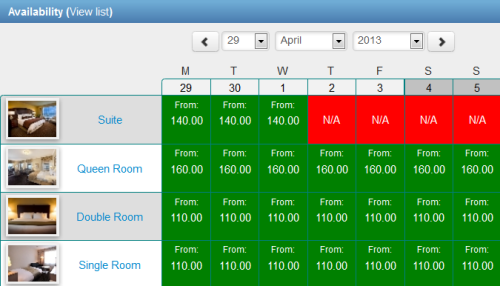 Colorful choices or use your own
The new Booking Calendar includes a number of color themes that you can choose from to blend with your website's color scheme. If you can't find the exact color to match your site, not to worry, your website designer can easily customize all the colors in the new Booking Calendar.

Better experience
The new Booking Calendar includes a new and improved Shopping Cart feature that will allow for an even better reservation experience. Customers can easily book multiple rooms, tours, or rentals within the same reservation. In addition, they will be able to log in and view existing reservations.

Try it out today
The new Booking Calendar will officially be released on February 15th, but we invite you to preview it and try out all the new features. In fact, we encourage you to use the system and also give us your feedback.
Since this is a pre-release of the system, there is a possibility that you may run into something that is not working quite right. We're probably already working on it, but we still encourage you to send us a note using the feedback button.
You can preview the new Booking Calendar here:
http://www.webreserv.com/bookingcalendar20-preview.do
Do note that the Booking Calendar is connected to the live booking system, so don't make any reservations you wouldn't make in your existing Booking Calendar. Also, please note that the My Reservations and Login buttons are not enabled in the preview.
Frequently Asked Questions
Some frequently asked questions about the new Booking Calendar.
Q: The new Booking Calendar looks amazing, but I will not be able to update my website for some time. Can I keep using the existing Booking Calendar?
A: Yes, of course. You can keep using the existing Booking Calendar if you prefer to do so.
Q: How do I upgrade the Booking Calendar and how long will it take?
A: Upgrade instructions will be posted on our blog on February 15. In most cases the upgrade can be done in less than 10 minutes. However, if you are using custom stylesheets (most businesses don't), you should expect the upgrade process to take a little longer.
Q: Does it cost anything?
A: In most cases, there will not be any charges for using the new Booking Calendar; however, if you process more than 500 reservations per month, additional fees may apply. Please contact our sales and support for more information.
Q: Does the new Booking Calendar support everything the old Booking Calendar did?
A: The new Booking Calendar is generally better in all regards. However, Point-To-Point reservations are not supported in the new Booking Calendar.
Have a question? Write us and let us know.
We want to hear from you
We always want to hear from our customers. Your suggestions are invaluable for us to continue to make WebReserv even better. If you have ideas for features that can help you run your business smoother, let us know by sending your thoughts and suggestions to support.

We look forward to hearing from you.